The Folk of the Air (Trilogy) by Holly Black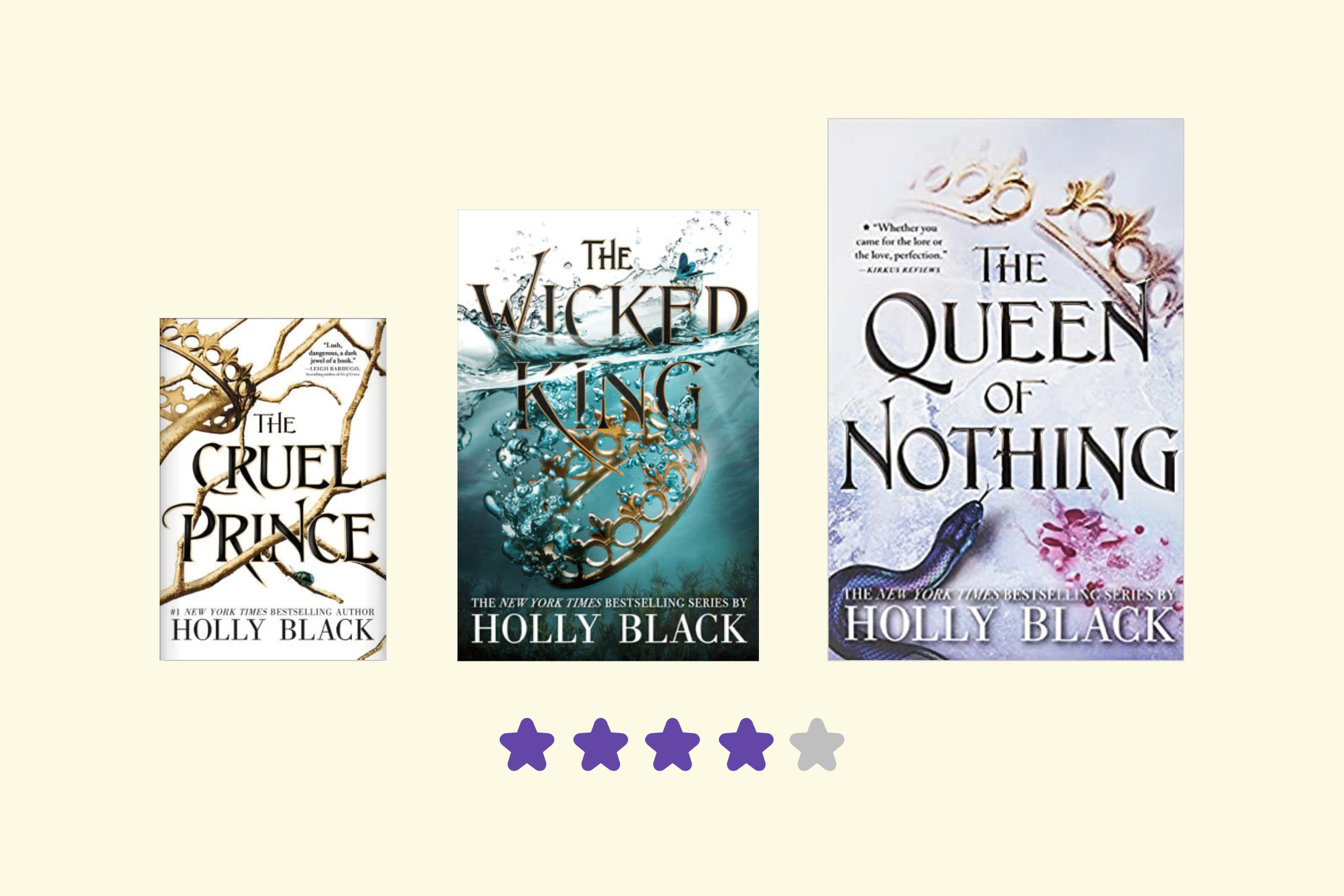 I decided to write only one review after reading the entire trilogy (The Cruel Prince, The Wicked King, and The Queen of nothing). You see, I couldn't stop reading one book after the other. So eventually, it's difficult to know where a book ends and the other begins.

In this trilogy we experience the life and challenges of Jude, a mortal forced to live in the faerie world after her parents were murdered by her foster father--the great faerie General. Brought up in their court from an early age, Jude learns to adapt up to the point that when she's exiled to the human world later on, she can't wait to go back. While living in Faerie, she becomes a great fighter and learns everything she is taught about their history and politics. However, she is still a human. As a consequence, she is nothing but a riffraff, especially for the young Prince Cardan and his malevolent friends.

In her journey, she faces betrayal from her friends, including her own mortal twin. She is humiliated, played, beaten, almost killed a couple of times. However, what doesn't kill you makes you stronger. Therefore, in her struggles to fit in and protect herself from fae magic, Jude becomes a spy for one of the princes in exchange for special protection against compulsion. This will allow her to gain intel and survive within the enemy's lines and protect faerie in the upcoming war.

Throughout the story, we see how Jude evolves as a strategist and politician. There's no challenge she can't rise above. But, will her heart rise to the challenge too?
"That boy is your weakness."
I mentioned Prince Cardan before. He is her nemesis, but also the most gorgeous fae her eyes have seen. They fight each other. They insult each other. However, as the saying goes there's a thin line between love and hate. And now, she has saved his life and become Queen of Faerie.

Will the King and Queen declare war? Will they outmaneuver their enemies with their wit? What about the 'supposed' curse that states Prince Cardan "will be the destruction of the crown and the ruination of the throne?" All these questions are answered in this third book in a marvelous way.

You have in your hands a thrilling, fast-paced and action-packed trilogy. All the characters are built in depth. You can feel their struggles and emotions. You can understand how their pasts built their natures, why they are the way they are. The only thing I would have loved is to see more magical powers, you know the faerie fantasy in all its glory. The fights involved knives, arrows and swords. Prince Cardan show some of his magic once he becomes one with the earth. But that's about it. Now, I believe the author wanted us to concentrate more in the characters and what they were capable of themselves, rather than what their powers would allow them to do, in which case I applaud.

All in all, I enjoyed these books quite a lot. They are a slightly different version of a typical faerie fantasy. As I said, it feels more character focused and this allows you to feel and suffer with them.
---
---
❤️ Enjoy this review?
Check out my Friends of Fae Reviews subscription Plan. It might be a great fit for you.