The Lost Sentinel (Book Series) by Ivy Asher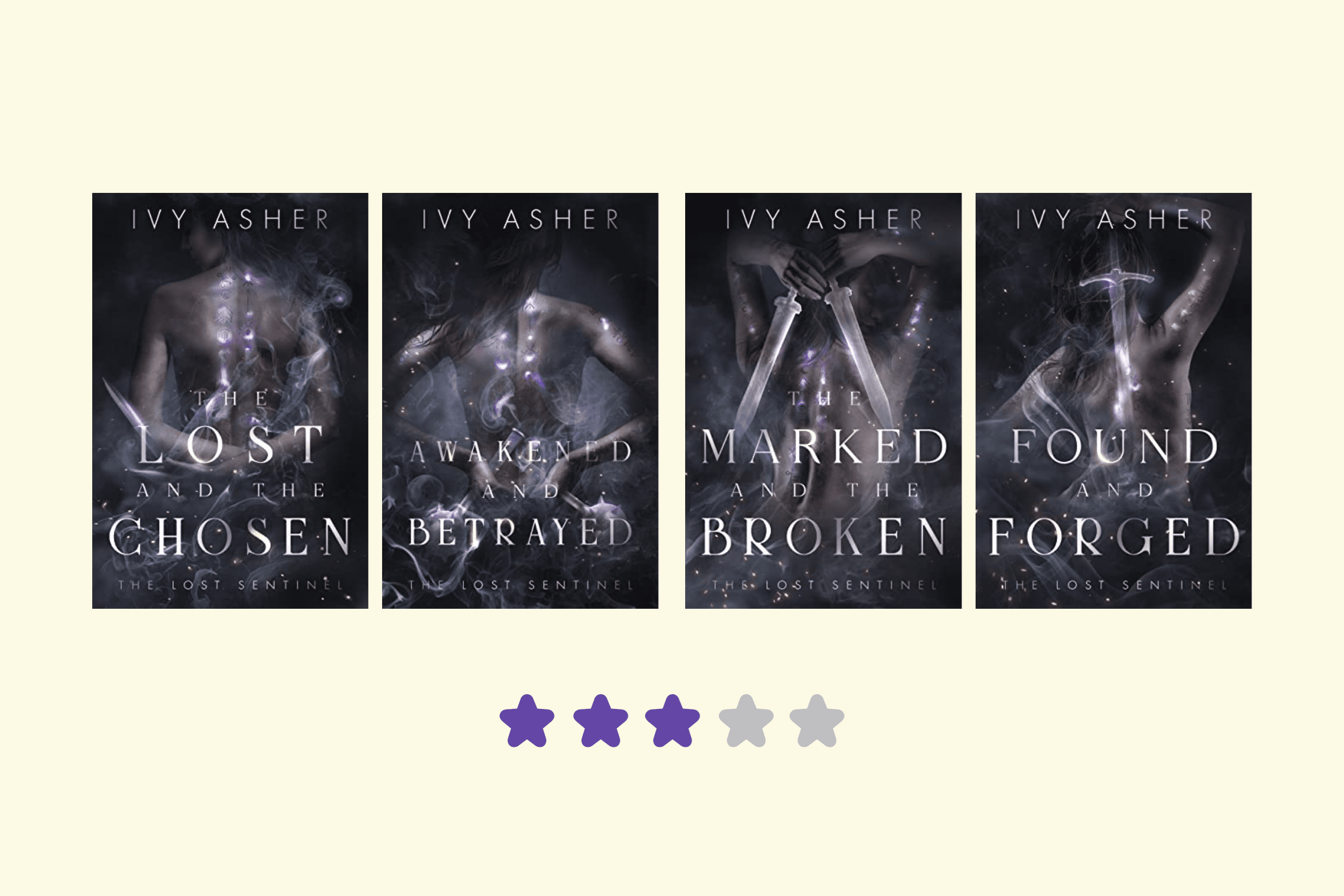 Ivy Asher has a way of telling a story that even if nothing major is happening you are still engaged in the reading. I would say this because there were some aspects in this book series that I wouldn't generally condone, but I found myself forgiving Asher for them.
In "The Lost Sentinel" we meet Vinna. Up until her twenties, she's been living like a normal human. She knows she has some supernatural powers, abilities that allow her to become an excellent fighter. However, she doesn't understand where they all come from or what they mean. One day, she encounters a group of paladin and her life turns upside down. She discovers a parallel world of magic, where she'll still have to figure out her place in all of it. After meeting 'the boys,' she unleashes a rollercoaster of feelings, emotions, connections, and power. Together, they will face unprecedented challenges and terrible creatures, while learning to control their abilities and the scope of them, too. But most importantly, Vinna will finally learn the meaning of love and family.
In a fantasy romance book you're probably looking for two things. One is a story submerged in a fantastical world where the characters' powers or magic will allow them to solve a conflict/puzzle. Second, you are hoping for some passion to be ignited between the protagonists. Let's take a closer look to the first.
This story happens within a human world, basically. By this, I mean, imagine your current modern environment and add some supernatural creatures to it. This said, and because of the nature of some of these creatures, I found myself in an in-between world, as if you had travelled to Hogwarts. Then, there are a lot of references to other stories, like "Lord of the Rings," "Harry Potter," "Fifty Shades of Grey." At the beginning it was a cool touch. Later, due to this in-between feeling, I found the references a bit too much and too modern for the setting. It was like living in the world of "Outlander" and referencing "Star Wars." It was a bit dissonant at moments.
Let's talk now about the story itself. More times than not I found myself not knowing where the story was going. For example, in book 1 we meet Vinna and her boys. Most of the book evolves around her lust for them. Then, towards the end we are told more about the enemy, which was only mentioned barely sometime before. So, you see, we have a whole book of getting to know a character, expecting to see her train her magic, but not quite getting there; not many answers in the way, and not a clear conflict to be involved in. Then comes her relationship with the boys. It was quite funny to see her with them. Nevertheless, at some point the lust and the orgy quality of their involvement wasn't working for me. 'We have a conflict, then let's solve it by making out'. Every time she saw one of her guys, she would combust, and like a moth to a flame, the orgy got bigger and bigger. I'm not sure how I feel about this badass girl turned into a sort of sex pet. And I know the boys cared deeply about her, and respected her. Still, how she would go from one's lap to the next… I'm not convinced.
Finally, I didn't get the meaning or reason for book 4. You see, the main conflict of the series concluded in book 3. It is followed by a new book with a completely new conflict and new characters. Even when you can relate the ending with some of Vinna's inner conflicts shown throughout the rest of the books, it fell like a separate saga. In fact, Asher finishes by saying there's another book series if you felt like you wanted to know more about the future of the characters. So, book 4 should have been part of that book series, in my opinion.
All in all, if you're looking for some fun passion, this book series is for you. I would say it's the main focus of the book series. However, there're still some great fights and it's fast-paced, so you'll finish it in no time.
Ratings:
The Lost and the Chosen - 3.5
Awakened and Betrayed - 3.5
The Marked and the Broken - 3.5
Found and Forged - 3
❤️ Enjoy this review?
Check out my Friends of Fae Reviews subscription Plan. It might be a great fit for you.
---
Disclosure: I am an affiliate of Bookshop.org and I will earn a commission if you click through and make a purchase.
---