Only a Monster by Vanessa Len
Look around you. You never know when a monster is lurking near you, a neighbor perhaps? In this refreshing YA novel, we follow Joan become the monster she is meant to be. After some tragic events, she embarks on a quest to fix the damage that has fallen upon her world, while... [Full review below]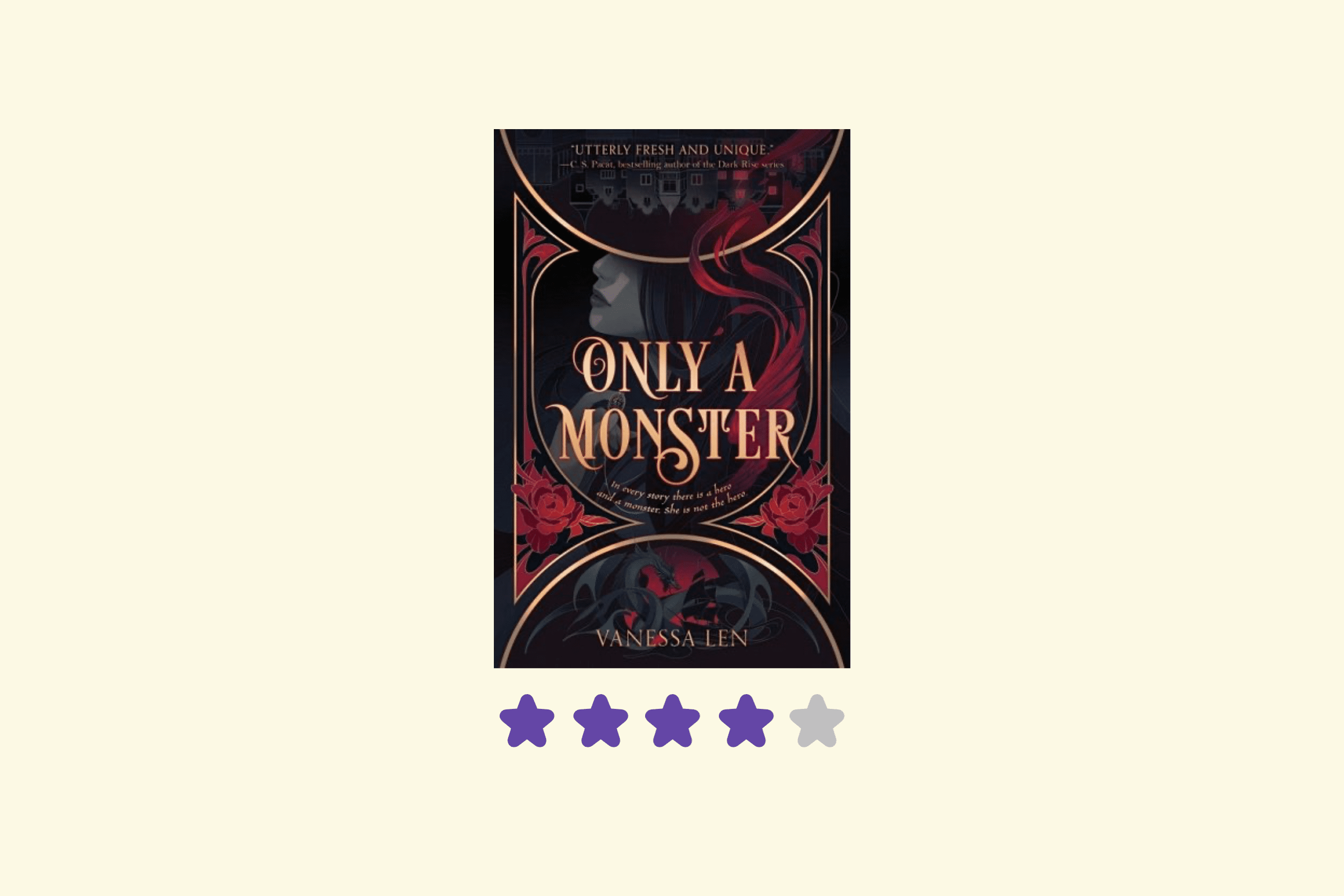 What do you picture when you think of monsters? Probably, you imagine creatures with ugly features. Maybe, you think of fluffy and animal-like species as in Monsters Inc. However, it's true that we associate a monster with evil. Therefore, why can't we humans be monsters? We certainly have evidence of awful deeds throughout history.
In "Only a Monster," we meet Joan. She seems to be a normal girl spending her summer at her grandmother's place. She's been told from an early age that they are monsters. However, imagining demons and creatures alike, she never takes that word seriously, until dramatic events turn her life upside down. The boy she is in love with, Nick, reveals he's an impressive monster slayer. Does she have to run for her life now? Can they be together as monster and monster slayer? She begins a quest to try to undo the damages that felt upon her world. However, unfamiliar with the monster way, she works together with handsome Aaron, another monster from an enemy family, to solve the puzzles and battle obstacles in the way.
When I finished reading the book I was in a daze, of the good kind
When I finished reading the book I was in a daze, of the good kind. I mean, what? Vanessa Len has given me a lot to think about. First, we have a story of monsters that look just like anybody else, and who seem nice people. Then, you're told what they do, apart from their specific powers, and the mental conflict begins. You think, well, that's not ok, but you like them. So, you're in an ethical battle with yourself. It's very uncommon, in my experience, to read a story from the "enemy's" perspective. You see them as the heroes of the story, even though there are aspects of their lives and actions that you don't agree with. You wish there could be a way to balance everything out and have monsters and humans co-living in harmony.
Then, we have Nick and Aaron, the love triangle of the story. You don't know for whom to fall in love with. You like them both. You are afraid what's going to happen in the story to allow just one of them to survive in the plays of love.
And of course, there's the ending. It was what had to happen and at the same time it leaves you kind of disoriented, waiting for a broader explanation I assume will come in the next book. The major conflict is solved. The romance is still there. I'm still not sure what's going to happen in that aspect. Is the triangle solved or not?
I really enjoyed this story. It was so different from the usual, from the perspective it was told from to the whole concept. I also liked how real places and aspects from British history where mentioned, described and made part of the story.
It started a little bit strange for me. I wasn't sure I was going to like it. You see, Joan sometimes acted silly, like if you don't know how the monster world works, then stop being so stubborn and listen to the others who know. That said, obviously she needed to be stubborn for the story to continue, but the way she behaved at the beginning was getting on my patience. I tried to put myself in the shoes of a young adult audience, and this is the only reason why I won't take this small aspect as criticism on my part.
What I will criticize a bit is Joan's power. It could have been explored more. At first, the author is very mysterious about what she can do. At the same time, the few clues we have makes it look like a very boring power for a protagonist. At the end, we understand it, but I'm not sure there was enough evolution there story-wise to let the power grow from what it seemed to be to what it actually was.
All in all, I'm looking forward to "Never a Hero," the next installment in the series. Hope time flies quickly.
Review
Book Series: Monsters
Only a Monster
Author: Vanessa Len
Rating: 4
---
Only a Monster
by Vanessa Len
You can get it at your favorite place. However, you can buy it via Bookshop.org to support local bookstores.
Disclosure: I am an affiliate of Bookshop.org and I will earn a commission if you click through and make a purchase.
#MakeTheSwitch📚
Buy here & support local bookstores
---
❤️ Enjoy this review?
Check out my Friends of Fae Reviews subscription Plan. It might be a great fit for you.