Uprooted by Naomi Novik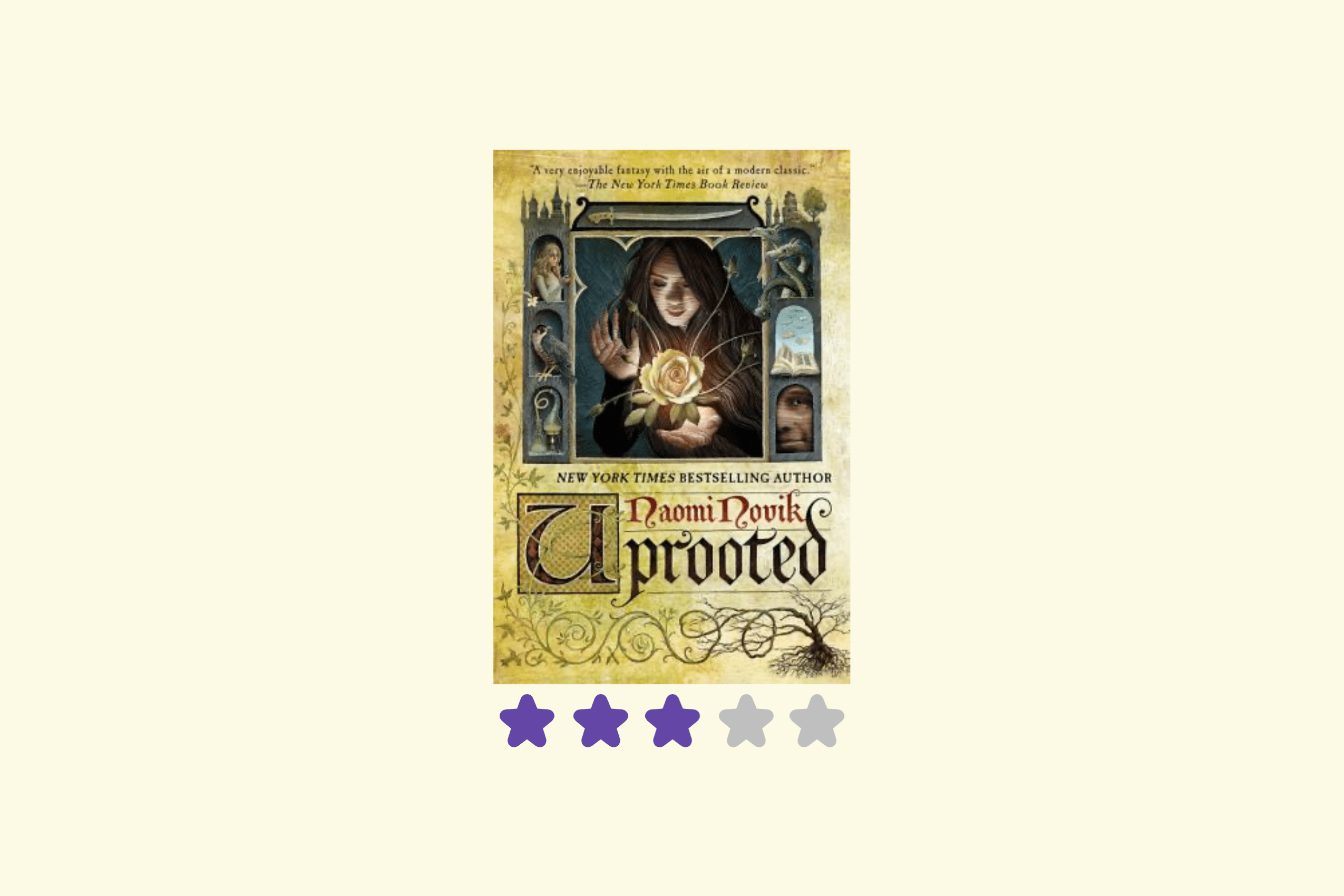 Rating: 3 - 3.5

I fell in love with fantasy not so long ago. So, I'm catching up with the genre. This was a book read and highly rated by some of my friends. Therefore, it seemed it had become a must read.

I enjoyed the story, though I can't say I loved it. Opinions and reviews are so subjective sometimes. We all have different tastes and expectations. You see, the book was well written. I only found that when the author started describing or narrating scenes not directly related to the main course of action, the pace slowed down considerably. However, once the story picked up again, I found myself more involved in the narrative.

This book tells the story of a young clumsy disheveled woman, who discovers that she is not so ordinary after all. She lives in a small town not so far from the feared Wood, an enchanted forest inhabited by monsters that keeps creeping along the land, infesting and terrorizing the people. The citizens are protected by the famous Dragon, a very powerful but mysterious wizard, who demands being gifted a young woman in exchange for his services. People assume the worst as after 10 years this woman returns, however, changed.

The reason why I didn't rate it higher is because there were some aspects that I quite didn't grasp. For instance, the setting and character types were quite simple and easy to understand. We have humans. We have wizards. We have weird creatures in an infested Wood. At the end though, we get deeper into the Wood, but I didn't understand where the image we're given came from. It's not that I don't believe it to be possible, this is fantasy after all. Nevertheless, I don't know where it fits in the frame we are given at the beginning.

There was also this element that kept happening, which baffled me. Maybe I missed something. Our main character, our young lady Agnieszka and the Dragon develop their own dynamic. At some point, it feels like he can sense or read her thoughts as he answers her without she even saying a word about what she's thinking. It's not written as a dialogue. It's not explained either. Maybe they became so attuned... I kept waiting for an explanation, though.

Also, the Dragon is considered the most powerful wizard in the entire kingdom. There are many songs of his tales. I get that his specialty is more Wood-related, meaning dealing with magic infestations and creatures. However, I would have expected a little bit more from him in battle. There were other wizards who seemed to have more tricks under their sleeves.
---
Uprooted
by Naomi Novik
You can get it at your favorite place. However, you can buy it via Bookshop.org to support local bookstores.
Disclosure: I am an affiliate of Bookshop.org and I will earn a commission if you click through and make a purchase.
Buy link
---
❤️ Enjoy this review?
Check out my Friends of Fae Reviews subscription Plan. It might be a great fit for you.