London Calling (Book Series)
Luc and Oliver are faking their relationship for mutual gains. From incompatible personalities to opposite-poles-attract they'll seem boyfriend material, but will they be husband material, too? Full review below.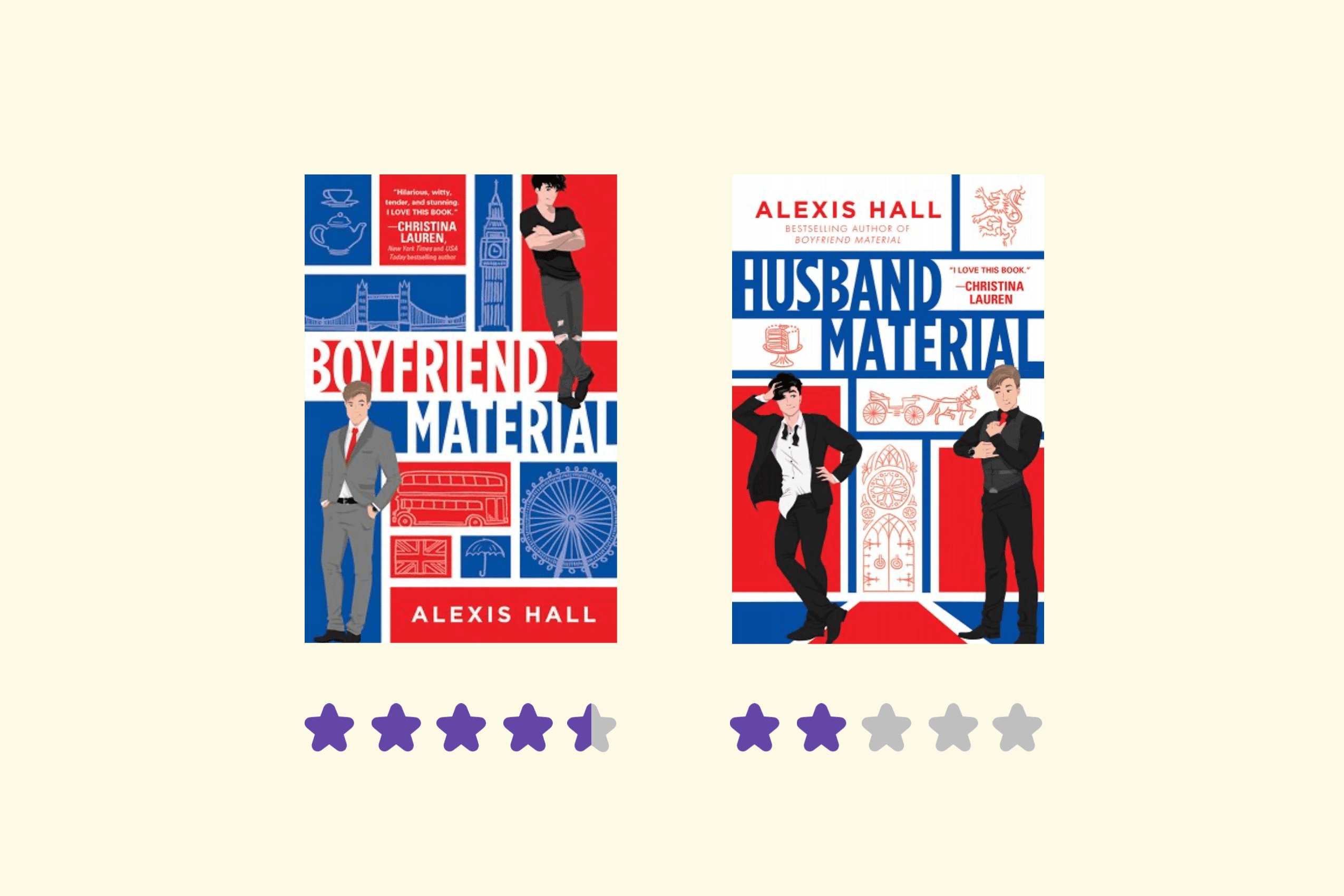 Review
Book series: London Calling
Boyfriend Material - ⭐️⭐️⭐️⭐️.5
Husband Material - ⭐️⭐️
Author: Alexis Hall
Dear readers, today I present you one of my favorite Romance books. If you enjoy reading queer romantic stories, this is a must for you.
In this series, Lucien O'Donnell is followed by the shadow of his absentee rock-star father. Being sort of famous, the paparazzis thrive capturing and decontextualizing his embarrassing life moments, making it hard for him to feel less than miserable. On the other side of the spectrum, there's Oliver Blackwood, a perfect guy with what seems a perfect life. They both find themselves faking a relationship together—Luc to gain respectability in his professional environment, and Oliver to have a date for a big family event.
They are like water and oil, compatible in paper, incompatible in real life. However, opposite poles attract, and sparks follow. This said, they both have complicated issues to face. Neither of them have had the best of environments and role models to grow up to. They'll have to navigate complex landscapes to make their relationship work.
---
Book 1
"Boyfriend Material" is as hilarious as they come. Lucien and Oliver's interactions are full of sass. Their mocking and sarcasm light up this story. I wouldn't have minded more provocative  and passionate scenes. Alexis Hall has managed to make an uptight character clash with his opposite explosive. You'll fall in love with both of them.
Book 2
Now, "Husband Material," well when you enjoy so much your characters, you don't want to stop reading about them. So, it was awesome Hall thought of continuing this series. However, this second installment lost that quirkiness and fun magnetism the first book achieved. It was slow paced and sometimes even a bit boring. Also, you didn't feel the story was going somewhere. What was the conflict Luc and Oliver were meant to solve? This becomes clearer right at the end. So, the story felt like we were just getting to see more of the life they've built together and that's it. It's interesting though the background topic Alexis Hall is raising awareness through this book—marriage and conventions, especially for queer people.
---
We grow up believing certain dogmas and following certain principles. Our parents teach us what they know and have been taught by their parents. Society sets a series of expectations and paths to follow. Each of those paths comes with their own set of labels and stigmatizations. Some are fortunate to grow up to question their surroundings and establish their own sets of beliefs. However, the vast majority will navigate this world through other peoples' lenses and conventions. On top of that, the queer community seems to have an extra layer of complicated expectations and dealings. Consequently, I applaud Alexis Hall for having the courage to address these society issues and giving us something to think about.
On a different note, it appears there will be a third installment. I'm not sure was left to tell, but we'll see when we get there.
💜
Does your TBR needs more passion, hope, and love? Check out my "Romance" category to discover more stories.
---
❤️ Enjoy this review?
Check out my Friends of Fae Reviews subscription Plan. It might be a great fit for you.
---
London Calling (Book Series)
by Alexis Hall
You can get it at your favorite place. However, you can buy it via Bookshop.org to support local bookstores.
Disclosure: I am an affiliate of Bookshop.org and I will earn a commission if you click through and make a purchase.
Buy links (Book 1 & Book 2)
---