The Final Gambit by Jennifer Lynn Barnes (Book #3 Review)
More puzzles, new enemies… "Don't trust anyone," Tobias Hawthorne's message to Avery, our protagonist. That sound ominous. What then? Avery and the Hawthorne brothers will have to play a last game if they don't want everything to fall apart. However, they will have to face their pasts once again.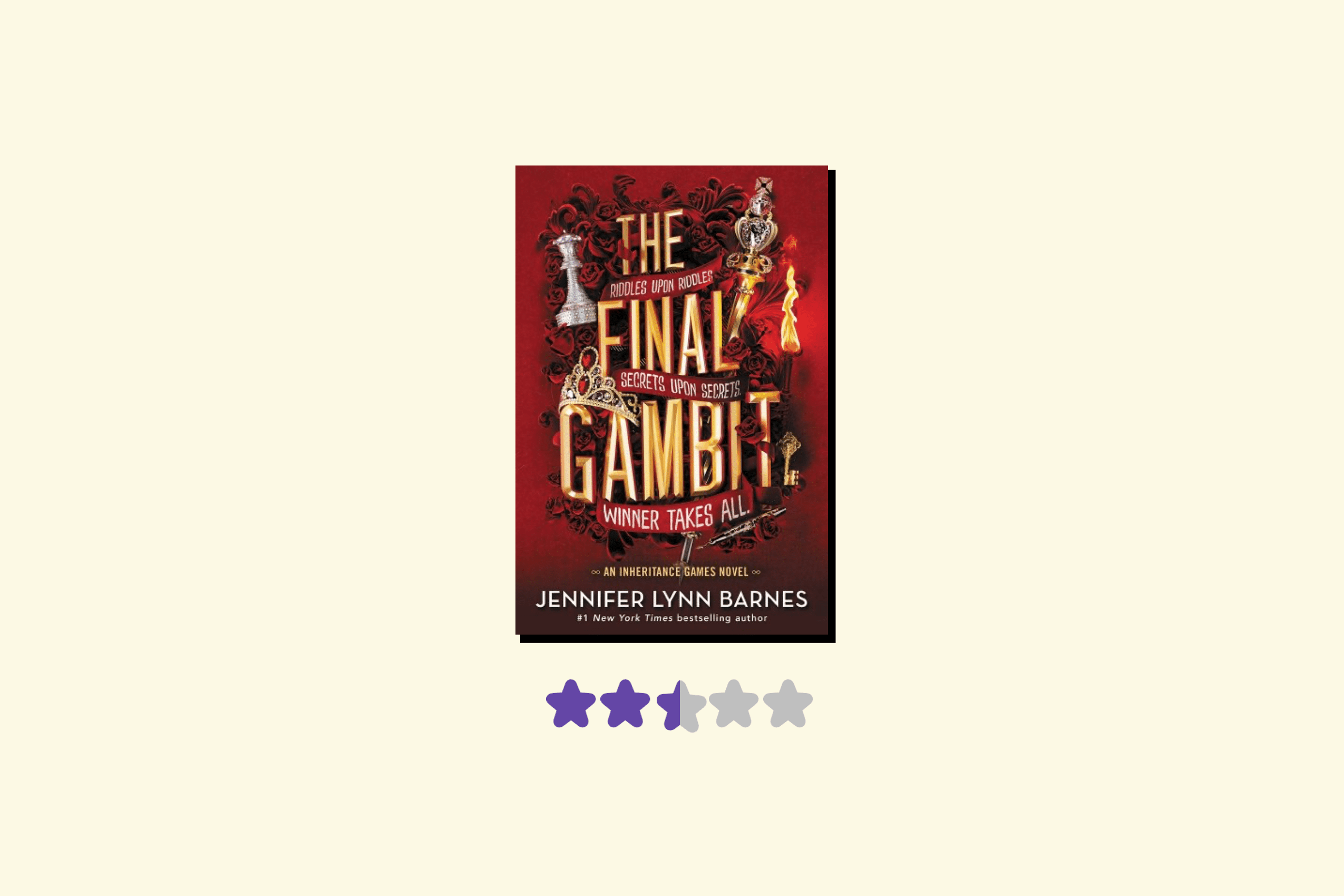 Review
Book 3: The Final Gambit- ⭐️⭐️.5
Series: The Inheritance Games
Author: Jennifer Lynn Barnes
Rest of the Series?: Book 1 and Book 2 review
Buy link?: at the end of this post ⤵️
---
I'm going to be honest with you. I don't think I understood this book or book series entirely. As I said in my previous review of books 1 and 2, puzzle-wise, the story is interesting. How Tobias Hawthorne anticipated so many things; how he planned all his riddles and secret compartments in advance. Imagining there are genius minds out there is amazing, people capable of great strategies. Also, imagining what you can do and solve when you've trained your mind in such ways, like the Hawthorne brothers and Avery could, definitely exhilarating.
I think my main problem with this series is the romance. There's romance in many stories, even when it's not the main storyline in the plot. At the same time, there are books, like in the Fantasy Romance genre, where the love relationship between the protagonists is as important as the main conflict they have to solve. In "The Inheritance Games," the romance turned out to be a distraction for me. You see, this triangle among Avery, Jameson and Grayson was very confusing in the first books. In this last one, even when Avery took her pick, it doesn't feel like she completely did. The romanticism here is lacking, so underwhelming. Even when Jameson, out of his character, tries to behave more romantically, he sounds false. Grayson, on his part, can be romantic in a way that makes you say, how did she choose Jameson instead of him?
[This is not a spoiler. Remember the end in book 2? Avery said to Jameson: "Heads, you kiss me… Tails, I kiss you. And this time… It means something."]
Jameson is a very interesting character, his mood, his intellect, his hunger. However, romance-wise when you pair him with Grayson, there's something in the way their relationships with Avery have been narrated and described, that you can't finished falling in love with Jameson, or better yet with 'Jameson-Avery.'
I understand that the main focus of this series is the mystery and the puzzles. However, I feel Jennifer Lynn Barnes didn't want to leave the love triangle so much in the background. So, it wasn't a strong storyline as in mixed-genre stories, but it had more attention than in stories were romance is just a thought. As a consequence, it built my expectations. I wasn't just following the characters solving riddles. I was also trying to fall for them and see how their relationships were going to end.
In my personal opinion, I would have enjoyed more the story if the author had taken the romance out of the equation. Take the epilogue, for instance. I would have liked to get a better picture of Avery and Jameson. But again, because romance is not the deal here, their future was just mentioned. And believe me readers, I understand this in principle. However, as I said I feel Barnes gave more attention to the love part than it should have, and for such, I would have expected more at the end.
Now, let's get into the juicy part. Being a mystery story, Avery and the Hawthorne brothers are facing now a new enemy. They don't know who this person is or why is he entwining them in his/her plot. I'm not complaining about this. That said, there was so much suspense built throughout the story, that when the conflict was solved, it happened too fast and almost without consequences. I mean, even though Avery decided to put a lot on the line, her win felt too simple. At one point we have this elaborate plot with a clever enemy and so many possible disastrous outcomes, and then, she plays and wins, in a blink of an eye, and all the threat is gone. It left me without a proper closure.
Moreover, the ending of Toby's storyline—if you read the other books, you know he is Tobias Hawthorne's 'son—' was a bit lacking. I would have expected something more, maybe more fight, not such resignation to his fate—even though I get he had a reason for the choice he made. He is such a mysterious character throughout the series that I believe he deserved more paragraphs in the book.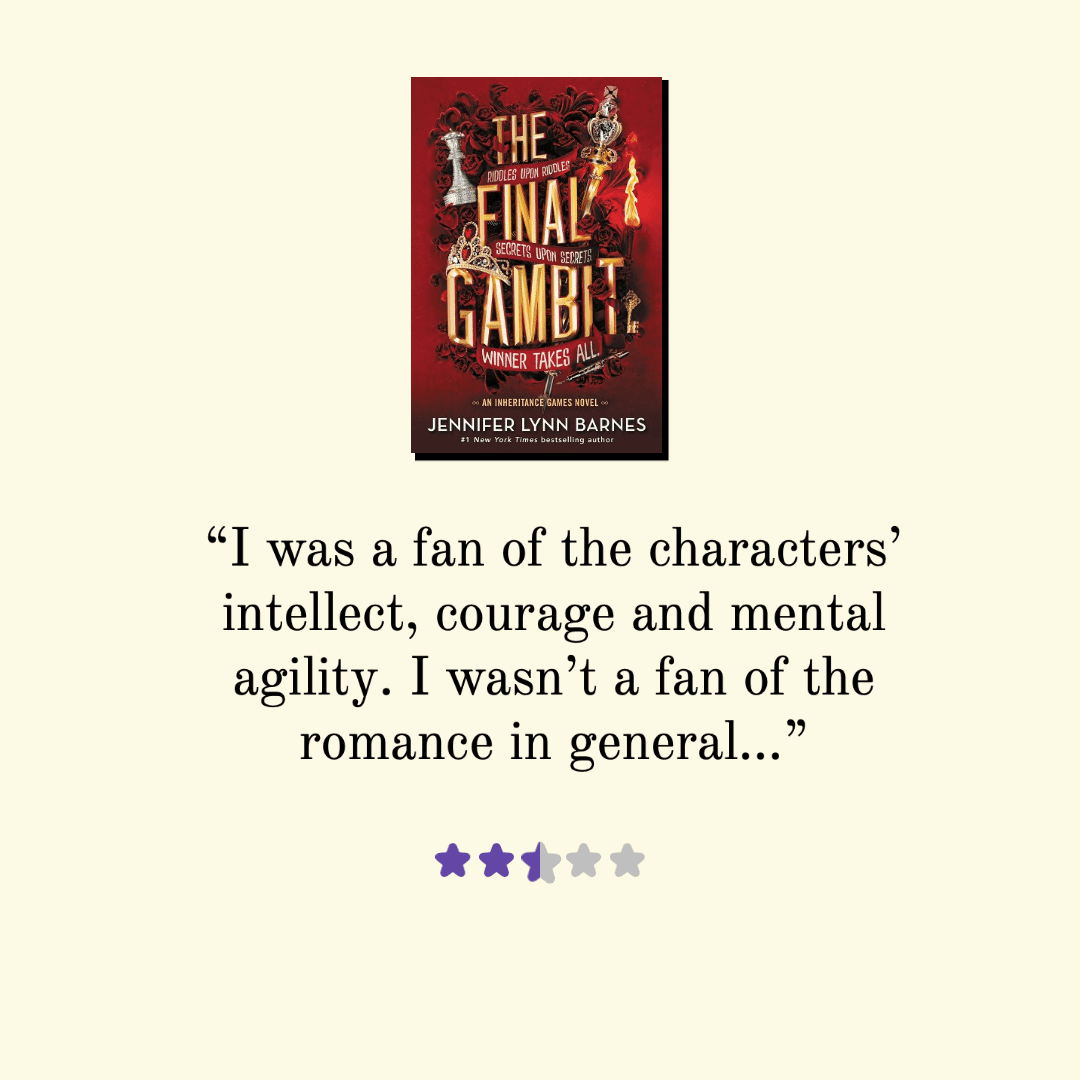 In the epilogue, we get a hint that a possible new series could come up, at least if the author wanted to explore that subject further. I was a fan of the puzzles. I was a fan of the characters' intellect, courage and mental agility. I wasn't a fan of how the conclusion came to be or the romance in general. So, I hope, if there's more to come eventually, I can get more of the first and less of the latter.
❤️ Enjoy this review?
Come back next week for a new review, or Subscribe if you prefer get it in your Inbox instead.
---
Disclosure: I am an affiliate of Bookshop.org and I will earn a commission if you click through and make a purchase.
---