These Hollow Vows (Book Series)
"These Hollow Vows" is a series of contrasts. Book one has everything you're looking for in a Fantasy-Romance story. Now, the latter, is the opposite. Find out why I liked "These Hollow Vows", and why "These Twisted Bonds" didn't do it for me. Read my full review below.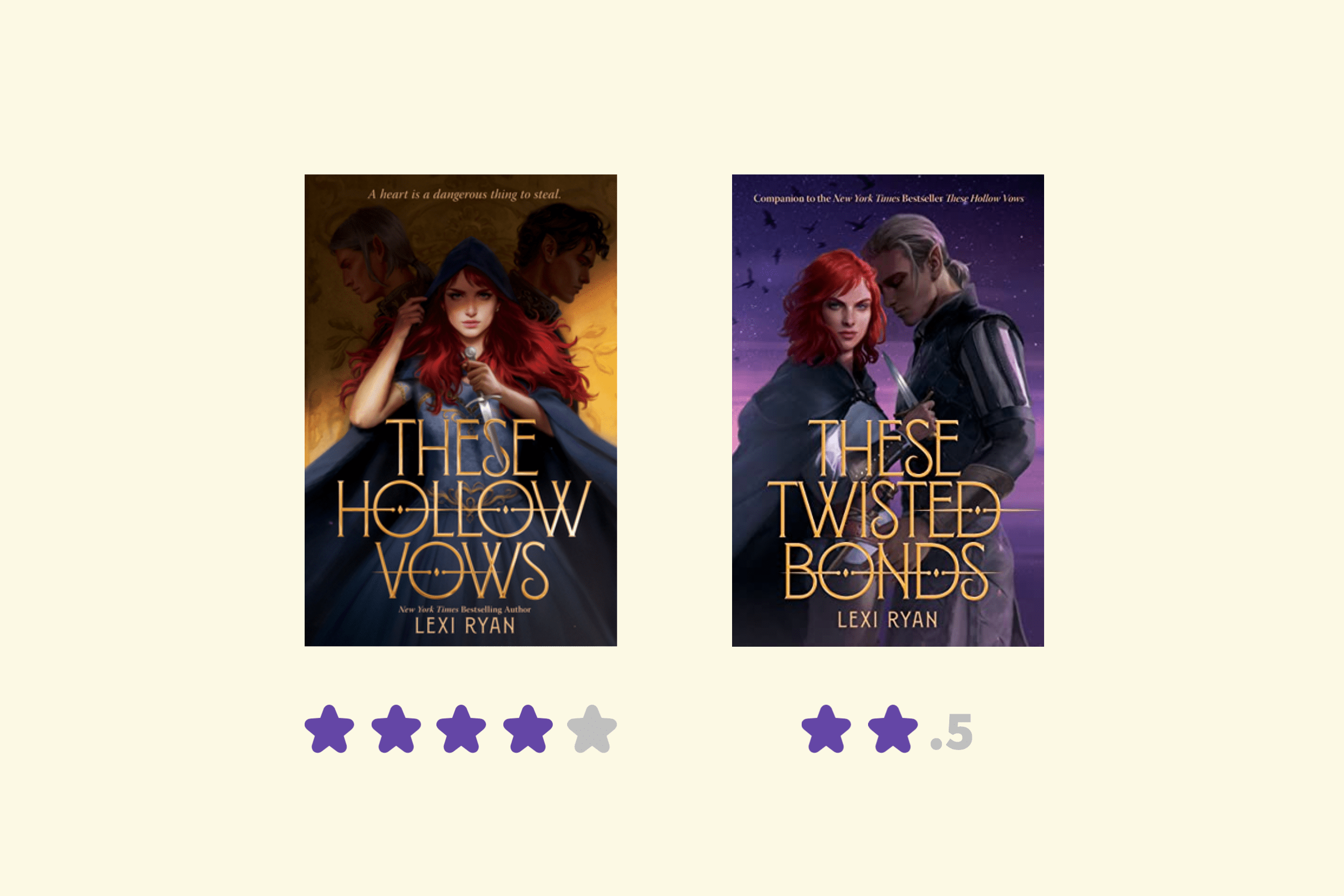 Review
Book series: These Hollow Vows
These Hollow Vows - ⭐️⭐️⭐️⭐️
These Twisted Bonds - ⭐️⭐️.5
Author: Lexi Ryan
This is the first time I've read books from Lexi Ryan. So, I'm going to start by applauding the covers. I'm a fan of Fantasy and Romance, but what I dislike about these genres, especially the latter is how most of the covers involve ripped naked guys—and it seems this applies to Ryan's previous books, too. I'm sure it appeals to many because otherwise we wouldn't find so many similar cover designs. However, they have the opposite effect on me. I know they say don't judge a book by its cover. Unfortunately, that's exactly what we do, and the cover is our first impression of a story. Most of the times, naked guys mean superficial boring plot.
In "These Hollow Vows," Abriella is Ryan's version of Cinderella. She is a human servant indebted to her family. Therefore, she is forced to exhaust herself cleaning and attending her obnoxious cousins. Not able to pay her rent, she builds debt that forces her to become a great thief. However, unable to keep building interests, her aunt sells her sister to the Unseelie King of the Fae—a male known to be cruel—as payment. Determined to recover her, she travels to the Fae lands with the mission to become one of the bride candidates to the Seelie Prince, even when she hates the Fae. There's nothing she won't do to save Jas, even betrayed her love, Sebastian. Nevertheless, Sebastian isn't what she thought he was, and a new wave of betrayal and lies follows. But lies don't end there, and Abriella will find herself lost and alone with no one to trust. Fae politics is a nasty business. Each kingdom pulls and pushes to fulfill their goals and wishes, and Abriella seems to be always in the middle of the conflict. And the conflict wouldn't be complete without a love triangle. Sebastian must compete with Finnian, the exiled Prince and heir to the Unseelie. The future of Elora—the human lands—and the entire Fae is on the line. Greed and power are a recipe for disaster. Will they be able to stop evil forces from destructing everything? Will love be enough to save their souls?
Digging in…
I really enjoyed the first book. It had an interesting premise and it was well constructed. The mystery kept you invested in the story, following every line to uncover the secrets each kept. There was good tension and exciting twists. I also liked Abriella as a character. She is a strong female, willing to do what it takes to keep moving forward. I enjoy it when women are fighters or develop skills to survive. You can't avoid wanting to be like them a little.
After this great first installment, you can imagine my expectations were high for the second and final book in the series, "These Twisted Bonds." However, for me, it didn't quite delivered.
Let's start with the love triangle. These are tricky to develop. In my opinion, there has to be something that differentiates your character's feelings for each candidate. In this case, the way Abriella described how she felt for Sebastian and Finn was practically the same. Except for a connection she had with one of them and her power, there didn't seem to be anything indicating why she should choose one or the other. In fact, not even her moral compass was helping her in the matter (I'll talk about this on the next paragraph). On one hand, it didn't make sense how strongly she kept feeling for one. On the other hand, her feelings for the other were barely explored. Therefore, how this triangle is resolved felt abrupt. One day she is thinking A, and the next she is choosing B, just like that. There wasn't enough room for their feelings to evolve and their relationships to unfold. Moreover, there was a crucial romantic event at the end, which fell under the table. I think it would have been important to narrate it, but because it's obvious it was going to happen, the author didn't feel the need to dedicate lines to it. Again, it would have allowed us to build more connection with the characters and their relationship.
Now, I said before that I enjoyed Abriella as a strong female character. In book 2, this image is shattered. I keep thinking of Feyre in ACOTAR. When she was mistreated by a male she was in love with, that was it for her. There was no turning back, and this allowed her to value the other male she was then falling in love with. With Abriella, I understand you don't forget love just like that. Nevertheless, her constant dilemma, wanting to forgive him, weakened her as a fierce and respectable female. This is what I meant about her moral compass. I didn't agree with how she kept heading south with certain male character.
The narrative
This series is a tale of contrasts. While in book one there was tension and action, book 2 kept a constant rhythm. In the latter, I didn't feel the tension, as for me, there wasn't really a high peak or a deep low. The story flowed slowly. For such, the revelations and surprises didn't leave a significant impression. And part of the problem is that those revelations needed more room to grow. Let me give you an example. At the end of book 2, Sebastian makes an important decision that allows everything to fall into place. However, we don't know what the consequences will be, what it will entail or how will it even look like for him. Sometimes, when series are approaching their end, it feels like authors are exhausted and desperate to finish and don't give those last pages the same detailed consideration they've poured into the rest of the story. As a consequence, some aspects are left half-baked.
Last but not least, there were a lot of repetitive phrases throughout book 2. There were also minor mistakes, like missing words and such. I don't usually comment on this, but it caught my attention that there were more than a few editing details.
So all in all, book one "These Hollow Vows" was amazing. It had everything you want in a Fantasy-Romance story. Book two "These Twisted Bonds" was the opposite for me. This said, I believe you should judge it on your own. I would definitely recommend at least the first installment. And of course, because there's a cliffhanger, you're going to have to dive into the second one.
---
---
❤️ Enjoyed This Review?
Every month I read tens of Fantasy-Romance books and review the most promising for you to enjoy, so you'll always have easy access to wonderful stories to read and recommend.
📢 Spread goodness to a friend and let them know about Fae Reviews. Here they can get started.
🗝 Sit back and dig deeper in the Fae Lounge ⤵️. You must be High Fae to  unlock this benefit.
Thanks for reading. See you next week!