📚Top Pick: We Hunt the Flame + 🔥Hot Fan-Rom and Rom Releases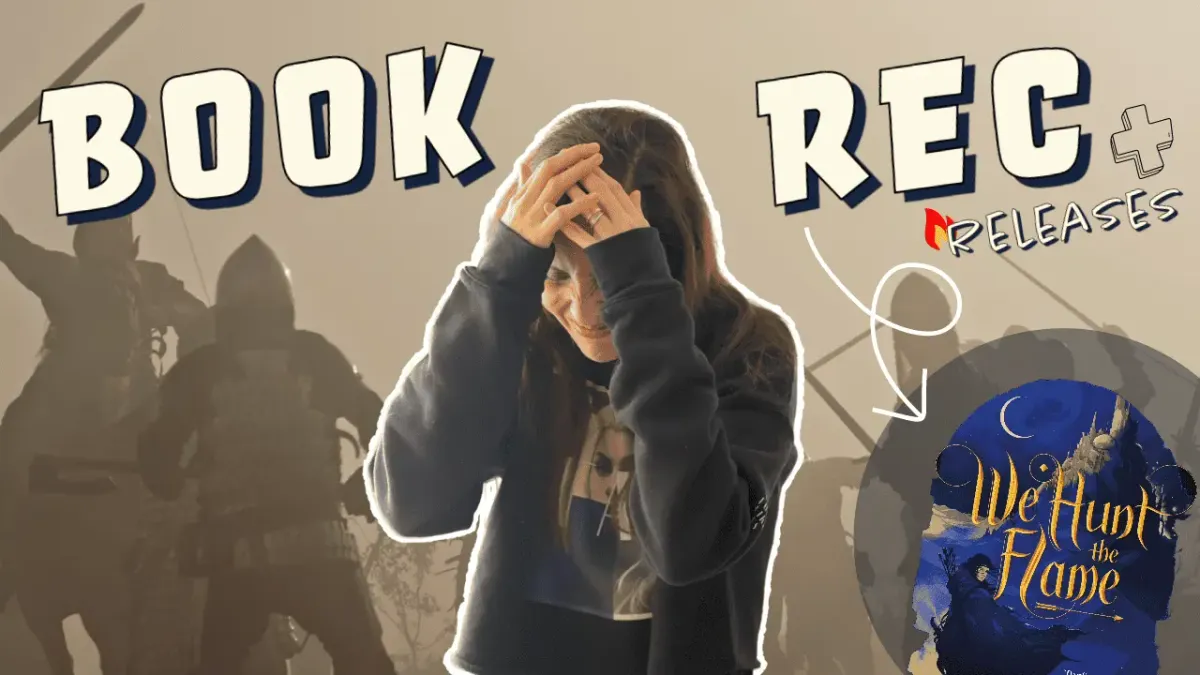 Welcome to Fae Bard, my monthly videoletter with my book picks and insights designed to help you make an informed selection of what to read next.
💬 In This Issue...
Book of the Month: One of my favorite YA magical adventures…
Upcoming Releases: A very anticipated sequel and a insta-read author's new book.
Dive Deeper: Further reading to help you choose better what to read next.
---
🎥 Click play on the video below to watch.
Fae Bard Issue #18 (Video Transcript)
Are you a hunter or a prey? When hunger is rampant, she'll grab her disguise and her bow in search for prey in the hunted forest. Everyone knows about her, but no one really knows who he is, I beg your pardon, who SHE is… Now, she is up to hunt for the flame that will bring magic back to the land and free them from despair and starvation. Once a huntress, now becomes a prey, as the feared assassin prince is on her trail. But there are more dangerous and bigger targets to catch, and soon, both their missions might fuse into one if they want to see another day.
———
Hi! I'm Diana, the face behind Fae Reviews. It's the first Friday of the month, meaning it's time for a new edition of my videoletter Fae Bard. Find my book picks for this month and save time choosing what to read next.
But before we jump into the book I chose this month as my personal recommendation, I quickly reminder… Don't forget to download my latest "On the Go" guide. Choose its image or pdf format, whichever is more accessible in your mobile, so that you can carry an interesting selection of books, right at your fingertips.
Book of the Month
The book I'm about to discuss, is one I read a long time ago, never reviewed, but hasn't either left my mind. It's a young adult Fan-Rom called We Hunt the Flame by Hafsah Faizal. This is the first novel of the duology Sands of Arawiya, published back in 2019.
In this enchanting world, magic has flown out of the lands, leaving its people living under harsh conditions. However, a brave huntress, Zafira, disguised as a man, is sent on a quest to retrieve an artifact that might restore magic. Meanwhile, Nasir has a mission on his own. The well known prince of death, the sultan's assassin, must retrieve the same artifact and kill the hunter. Once their paths cross, a whole different and perilous adventure will take them right into the lion's den. Priorities might change. Their mission might take a different turn. But what will be the result at the end?
Things I like about this book and series:
The characters are well-built. Each have their scars, skills, compass. Their personalities and actions go hand in hand. And who doesn't love fighters, in the literal and metaphorical sense.

The world, how it's described and its cultural background, is rich, creating a fantastical combination and setting for the actions that take place.

The story is action-packed.

There's an evolution not only in the action, but also in our characters.

There are also excruciating moments and beautiful instances of love.

From beginning to end, the book is neatly tide. What's more, I appreciate the author didn't add unnecessary instalments to extend the series, just two books packed with everything you need.
Upcoming releases
Let's move to the upcoming and promising releases for this month:
Both coming out on November 7…
From one of my insta-read romantic authors, comes her young adult debut, Check & Mate. We're talking about Ali Hazelwood. She steps out of her known STEM world, from her popular novels like The Love Hypothesis, to bring us a romance built from strategy. Two chess players will take their moves in and outside the board. Will the queen be sacrificed or will the king be checkmated?
———
Love bookish paraphernalia? Then, go to shop.faereviews.com and check out my recent apparel and accessory collections.
———
And the anticipated sequel of a book that has caused such a commotion up to the point in went quickly out of stock, we have Iron Flame by Rebecca Yarros. In Fourth Wing, the first instalment of The Empyrean series, and what I believe was Yarros Fan-Rom debut, we met Violet Sorrengail, a girl meant for books and scrolls not fights and dragons. However, against all odds she not only manages to survive but thrive in such a perilous academic environment. But as war is looming outside the military academy walls, and secrets are unlocked, her adventure will become more dangerous by the minute
Dive Deeper
If you'll like to explore more the literary world of Fantasy-Romance and its vast ocean of stories, I'll leave you some further reading to help you make informed decisions and therefore, maximize your TBR and reading experience.
You can find all the related links below this video.
Finding what to read next and narrowing your options have never been easier. Thank you for watching. See you next month!
Dive Deeper
Links & Downloads
Links
1.
📖
Check out
my review of Fourth Wing
here
.
2.
🛍️
Do you like bookish apparel and accessories? Explore my two new collections
here
.
---
On the Go Guide
Download your On the Go Guide ⤵️
Thanks for stopping by!
---
❤️ Enjoyed This Videoletter?
💬
Hit reply to send me feedback or just say hello.
---
Fae Bard will return on Friday, December 1 🗓
(🍿Watch previous)