📚Top Pick: Six Crimson Cranes + 🔥Hot Fan-Rom Anticipated Releases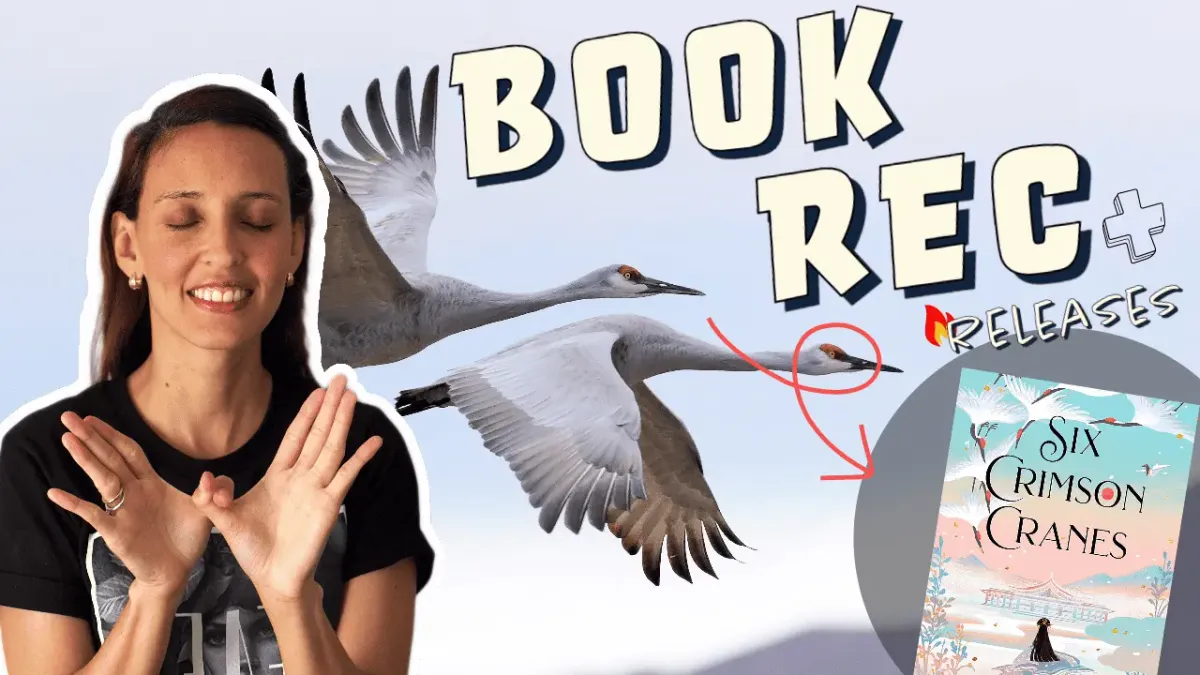 Welcome to Fae Bard, my monthly videoletter with my book picks and insights designed to help you make an informed selection of what to read next.
💬 In This Issue...
Book of the Month: An Asian fantastical immersion that almost got into my 5-star club.
Upcoming Releases: A debut plus well-established authors come into play this month.
Dive Deeper: All the links you need to make informed decisions on what to read next.
---
🎥 Click play on the video below to watch.
Fae Bard Issue #17 (Video Transcript)
Hi! I'm Diana, the face behind Fae Reviews. It's the first Friday of the month, so it's time for a new edition of my videoletter Fae Bard. Find my book picks for this month and save time choosing what to read next.
Book of the Month
This time I've chosen Six Crimson Cranes by Elizabeth Lim. Not only it almost got into my five-star club, but also, I've decided to review its sequel this month.
With Asian culture influence, here you have a book I found unputdownable, set in a thorough and enchanting world with intriguing plots, characters, magic and adventure.
You'll follow Shiori, a princess who is forced to marry, but manages to avoid her engagement, only to fall prey of her stepmother Raikama. She has secret magic, but after losing control, Raikama, who has dark magic, banishes her and turns her brothers into cranes. Determined to save them and lift their curse, Shiori sets on an adventure, forming along the way an alliance precisely with a boy she hated, her once betrothed. There's conspiracy, enemies, danger, and much more.
By the end, you'll learn that not everything is as it seems, and appearances might be deceiving.
Lim created an enchanting world with well-built characters, with whom we explore different family bonds and how those relationships shape your story. You'll find a lot of cultural elements that interlace nicely with what happens in the story. It's definitely a riveting read!
You can check my review of this book in the links below, and stay tuned for the review of its sequel coming later this month.
Upcoming releases
Let's check out the upcoming and promising releases for this month:
At the beginning of this week, came a debut by Thea Guanzon called The Hurricane Wars. It brings me back to Shadow and Bone by Leigh Bardugo, but it seems the shadows might turn from enemy to a beneficial alliance. We meet Talasyn, an orphan with light magic kept secret, of course; and Prince Alaric, son and heir of the terrible Night Emperor, forged as a weapon to destroy any enemy. After their paths cross, it seems the combination of their light and shadow magic will be the solution to their world or its destruction.
Next, comes the anticipated conclusion of the Once Upon a Broken Heart trilogy by Stephanie Garber: A Curse for True Love. I may not be a fan of this series, but this author certainly has become very popular, and therefore, why you might be interested in checking this out. Book 2 felt like a replica of book 1 for me, so I'm really hoping we'll get all the needed answers and the momentum in this third. You'll find the links to my previous reviews below.
I'll be finishing this list with another very much anticipated book by Jennifer Armentrout. It's the third instalment in her series Flesh and Fire, the continuation of Sera and Nyktos' story. It's called A Fire in the Flesh. This is a complimentary series of her famous one Blood and Ash, and therefore, they are set in the same world with a time difference. What was once supposed to be the conclusion, will be just a third book, and the fourth and last will come next year. You can check my reviews and everything you need to know about these series in the links below.

Dive Deeper
If you'll like to explore more the literary world of Fantasy-Romance and its vast ocean of stories, I'll leave you some further reading to help you make informed decisions and therefore, maximize your TBR and reading experience.
You can find all the related links below this video.
Finding what to read next and narrowing your options have never been easier. Thank you for watching. See you next month!
———
As you may have already heard, my online store is OPEN! Go now to my website and check out my two new collections of bookish and fantastical apparel and accessories.
Dive Deeper
Links & Downloads
Links
1.
📖
Check out my
review
of
Six Crimson Cranes
, this month's book pick. The review of the
sequel
will come on
Oct. 27
.
2.
3.
👀
Here is
everything you need to know
about the series I mentioned by
Jennifer L. Armentrout
:
- Reviews of
Flesh and Fire series
(Book 1
here
- Book 2
here
)
-
Books
that make her series and their
reading order
, read more
here
.
4.
🛍️
Do you like bookish apparel and accessories? My two new collections are available now! Explore
here
.
---
On the Go Guide
Download your On the Go Guide ⤵️
Thanks for stopping by!
---
❤️ Enjoyed This Videoletter?
💬
Hit reply to send me feedback or just say hello.
---
Fae Bard will return on Friday, November 3 🗓
(🍿Watch previous)