Crescent City (Book Series) by Sarah J. Maas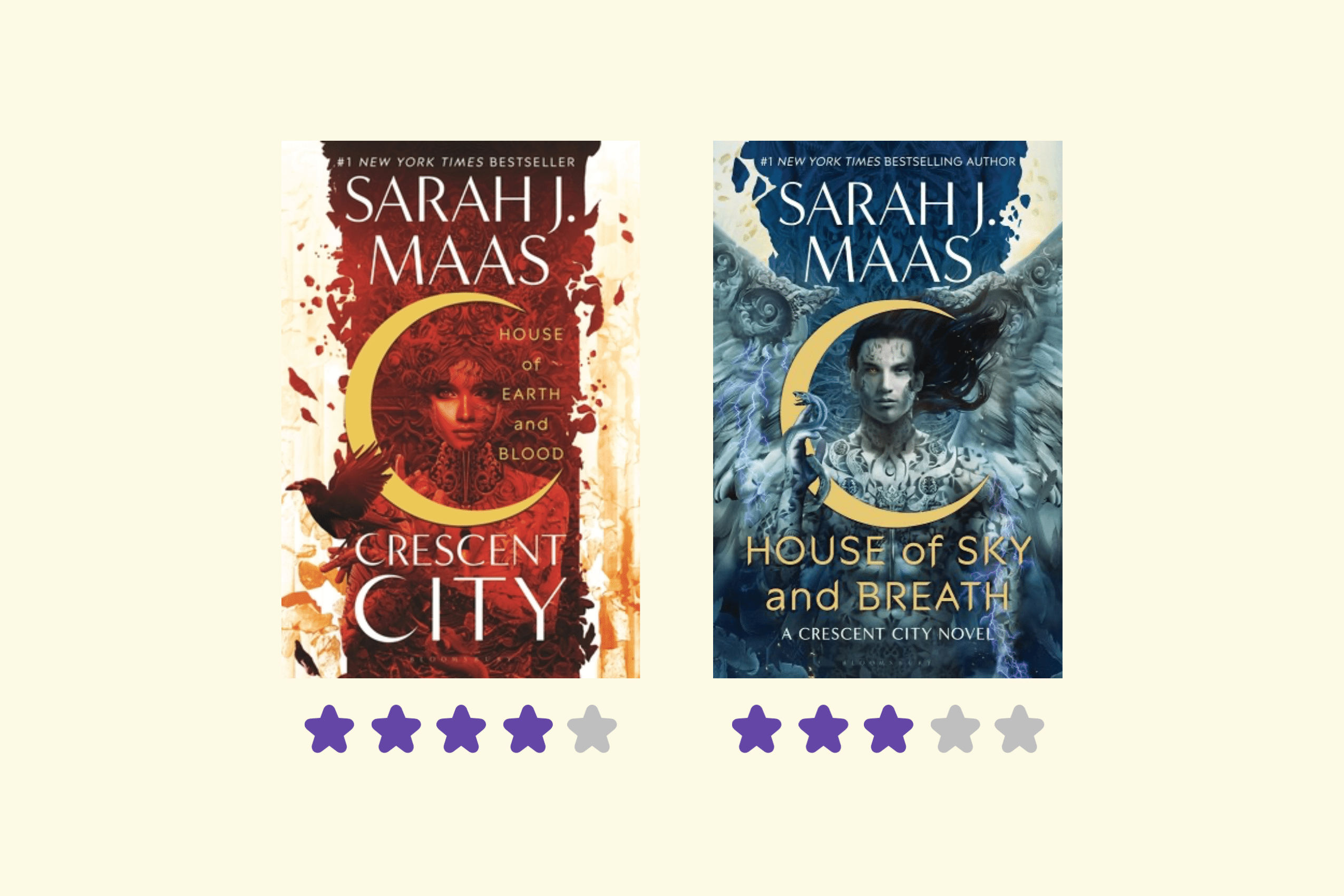 🗞️
News: The title for Crescent City 3 has officially been revealed. More info at the end of the review.
Let me start by saying, since ACOTAR came into existence, I'm a fan of Sarah J. Maas. That said, I try to be as objective as I can with my reviews. Therefore, I will rain compliments when the occasion so warrants, no matter who wrote what. Let's get a closer view into this new world of fantasy.
Book 1
"House of Earth and Blood" was a good example of Maas expertise at twists and turns. It had a nice pace and plenty of action, excitement, heartbreak, and emotions. If it weren't for the presence of the Asteri, it could have been a standalone. In this book, we meet Bryce Quinlan, a party girl, who seems content with her half-human existence. However, after one atrocious night, her love life hits a momentary pause. Her best friend is no more, and in her grief and desolation she sets herself to find some answers. In that path, she meets Hunt Athalar, a powerful fallen angel, who after a failed rebellion against the Asteri, the seven—now sixth—almost god-like rulers of their world, became their slave destined to kill and then kill some more. Together they start uncovering a very complex system of corruption, evil, and inequality. Some sparks fly in the air, sparks that could light a power capable of giving them deeper purpose.
By the end of this first book, I got a feeling of closure. You have very interesting protagonists. There's a clear conflict to be solved, a lot of secrets revealed, powers unfolded. There's hope and possibilities in the air, the happiness meter seems full or getting there. There didn't seem to be anything left to keep going on a book series. Obviously, the characters don't get to solve the major inequality consequence of the 'order of things' with the different parties governing them. Now, as I said, if you had kept the Archangels, and left the ruling Asteri out of the picture, you would've had a complete book, with a nice curve from beginning to end. I come with this observation because I was unsure what the second book could contribute to the story. With everything that happened already, I was afraid the continuation would be a copycat of the "House of Earth and Blood," meaning same conflict and story line with a different enemy name.
Before talking about the second book, let me briefly point out two things I didn't like about the structure and setting of this book series. The first aspect would be, in fact, one of my critiques of Maas's other saga "Throne of Glass." In any story you usually have one or two protagonists. Even if there are many secondary characters, you can find out about the results of their involvement and assignments while they interact with the protagonists—i.e. ACOTAR. In both "Throne of Glass" and "Crescent City," the story is told by too many characters. It breaks the flow of the story. Just when it was building momentum with the protagonists, the next chapter is told through another character's viewpoint and circumstances. All in all, we get to see inside more than two characters, their lives, feelings, and conflicts. There are many people struggling for your attention. It flattens the rhythm of the story. The second aspect has to do with the world itself. I have to admit that it was quite complex for me to understand or try to remember the different houses and genealogies involved in "Crescent City." There are a lot of names, even the names of the houses are long and similar, which confuses you to what is what, or who belongs where.
Book 2
Let's move on to "House of Sky and Breath" (book 2). It's heartbreaking for me to admit that it took me forever to finish this book. I finally got more engaged after the second half of it. Even when things happened, it felt like Maas kept adding pieces to the puzzle with no important victories in the horizon. The truths we found out and the action we had—except for toward the end—wasn't enough for me to justify an 800-pages installment. Some aspects of the story became repetitive. I was getting tired, for instance, with the secrets surrounding Danika—Bryce's best friend who died in the first book. Hunt's destiny by the end is questionable. After everything he went through before and after falling… We are inside this never ending loop. Then, the ending, I'm sure many people loved it. I have my reservations. I'll explain myself in a bit.
In "House of Sky and Breath" Bryce and Hunt can't seem to manage a normal and quiet life. Too many things are happening around them. They can't just wash their hands to the injustice of their world. Nevertheless, there's plenty at stake. There's a war building up, rebels pushing them to take a side, new characters and more secrets to reveal. Again, the involvement of all those characters in the narrative made it slow, and sometimes a bit boring. Bryce and Hunt are exploring their powers, with not very impressive results yet. And when things start getting really exciting, everything goes south.
So, the ending… I applaud Maas for her ambition. I can see that since "Throne of Glass" she's been exploring this idea she got to materialize in a more concrete way at the end of this second book. However, it's risky. I can't stop thinking of "The Fae Chronicles," by Amelia Hutchins—great story somehow damaged by complex and discordant mythologies. I would say not many can pull something like that. It's complicated, complex, and potentially confusing and senseless. I really hope this ending Maas chose doesn't hunt her in the future. I guess we'll have to wait for Book #3 to find out.
Book 3
Sarah J. Mass has announced the title for Crescent City #3, which is... 🥁🥁:

House of Flame and Shadow (to be published on Jan. 30, 2024)
---
❤️ Enjoy This Review?
Every month I read tens of Fantasy Romance books and review the most promising for you to enjoy, so you'll always have wonderful stories to read and to recommend to your friends.
You might bookmark my homepage and come back every week for more.
Or...
You might subscribe to make sure you don't miss a thing (plus exclusive goodness for you and your closest friends).
Either way, thanks for reading Fae Reviews. See you next week :)
---
---