🦾 A Fantastical Steampunk Experience by a Master Storyteller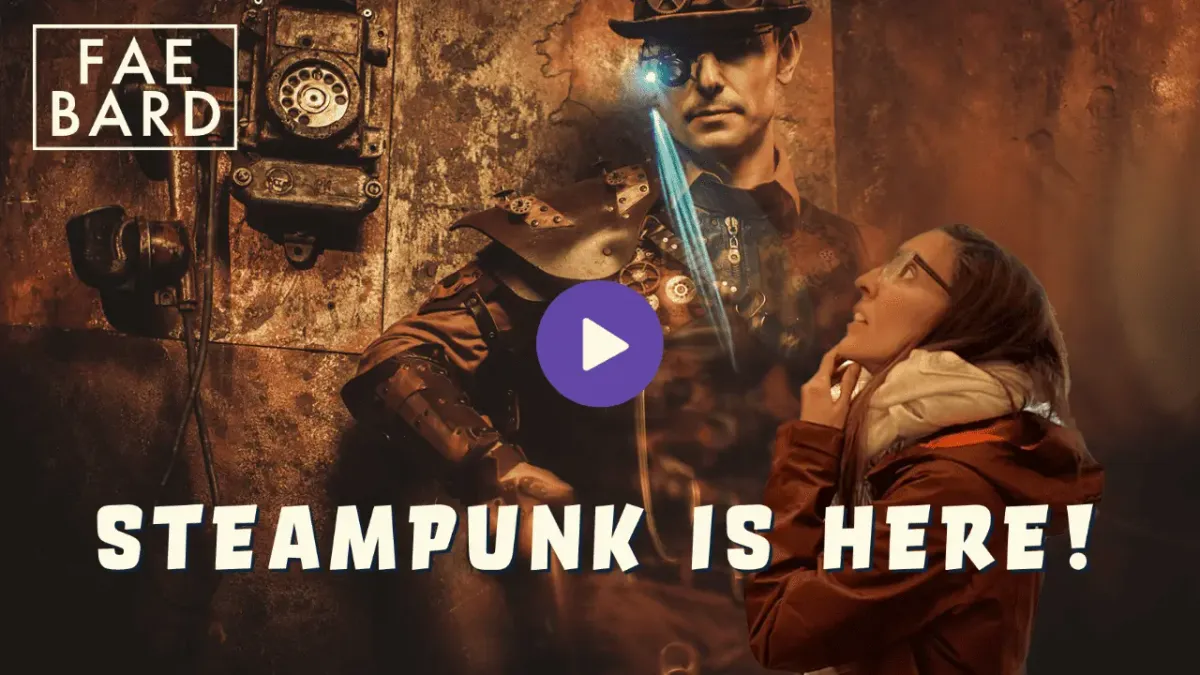 Welcome to Fae Bard, my monthly videoletter that celebrates the joy of reading Fantasy-Romance books and books in general.
💬 In This Issue...
Book of the Month: Foundryside, a 5-star-Steampunk Fantasy you MUST read.
Upcoming Releases: Find which Fan-Rom and Romance book releases I'm looking forward to this month.
Dive Deeper: Explore some symbols embedded in the myths behind ACOTAR plus downloadable content aimed to simplify your shopping!
---
Click play on the video below to watch.
Fae Bard Issue #9 (Video Transcript)
[00:00:10:13 - 00:00:32:02]
Diana
Hi dear High Fae! I'm Diana, the face behind Fae Reviews. First of all, thanks for subscribing. As you know, as part of your membership, you have access to my videoletter, Fae Bard, which I released every first Friday of the month. In this new format, you'll find three main sections. The first is... Book of the month, where I bring you a top book,
[00:00:32:02 - 00:01:02:23]
Diana
one I recommend, meaning it's been already tested, reviewed and highly rated so you might add it to your TBR. The second part corresponds to... Upcoming releases: Here you'll find the books I'm looking forward to once they become available this month. And finally... The Dive Deeper section, where I'll suggest further reading, if applicable, in case you're interested to explore more about what we're talking about. Plus your February download "On the Go Guide", which is an image or PDF, if you prefer,
[00:01:03:02 - 00:01:29:04]
Diana
you can carry on your mobile everywhere you go. It contains top book recommendations to easily access on the go. Stopping by a library by chance and don't know what to look for? That's where this guide comes in. I want to introduce you to "Foundryside" by Robert Jackson Bennett. It's the first installment of the fantasy "The Founders Trilogy" that you MUST read.
[00:01:29:11 - 00:01:48:11]
Diana
I know I mainly review Fantasy-Romance books. However, sometimes there might be popular books from other genres worth commenting about. Or, gems I find in my personal reading that I NEED to share with you. And that's the case right now. Look, I don't think I'm a picky reader. But, it's true I don't give five-star ratings easily.
[00:01:48:18 - 00:02:12:22]
Diana
The story has to blow me away, leave my jaw hanging for a while, knock it out of the park, you know. "Foundryside" Is that and more, If that's even possible. It's simply a masterpiece. From page 1 to the end is packed with action. The tension, the intrigue, the twists, the world and its possibilities... It's just something from another category.
[00:02:13:10 - 00:02:47:07]
Diana
Please come with me to Tevanne, and let's join Sancia, our amazing jack of all trades protagonist, in her adventure through tunnels, walls, foundries, life threatening jobs, carriages that move on their own accord, while she tries to steal a magical artifact of immense value. Immerse in this steampunk fantasy, a world of ingenious magic like no other. I still need to read the third or the last book, but I've never given so many stars in a series before.
[00:02:47:19 - 00:02:53:01]
Diana
My review on this trilogy will come later this month.
[00:02:55:13 - 00:03:20:15]
Diana
This month I'm looking forward to four books: We have Someone Else's Shoes, a romantic novel by popular British author Jojo Moyes. You might know her for the book and movie adaptation of Me Before You. This time we meet Nisha, a woman with a glamorous wealthy life, until she's cut off after her divorce. Now meet Sam, who took Nisha's gym bag by mistake and "stole" her shoes.
[00:03:21:00 - 00:03:46:12]
Diana
Sam's life is the opposite of what Nisha's used to be. She's struggling to keep afloat. She literally steps into someone else's shoes. Nisha's Loboutin red stilettos, and something jolts inside her. Join two women fighting to hold on to dear life. Moyes is an excellent writer with that characteristic style. Her romance is usually tragic, her stories deep and insightful.
[00:03:46:18 - 00:04:18:01]
Diana
Not everyone's teacup, but let's see about this one. Now let's move on to another romance by the hand of Tessa Bailey, Secretly Yours. After her success with the Bellinger Sisters series, I'm curious to read this cute story, where Hallie's teenager self fell for Julian, and many years later, they find bumping into each other again. However, they are polar opposites. A burst of chaotic color crashes with antithesis of the grumpy, tidy type.
[00:04:18:11 - 00:04:46:21]
Diana
Will they get that desirable kiss? And what about Fantasy-Romance? These Infinite Threads is the second installment of the series This Woven Kingdom by Tahereh Mafi, coming on February 7. Just like the previous two novels I just mentioned. In here, Persian mythology mixes with forbidden romances, Where Alizeh, who used to be a servant is in reality the long lost heir to the Jinn throne.
[00:04:47:04 - 00:05:15:16]
Diana
However, there are deals with the devil that must be fulfilled, and so, her throne and heart are on the line. What will she choose? Finally, check out Ambrosia, to be released on February the 20th. This is also the second book in the series Frosted and Nectar by C.N Crawford where Ava and Torin will have to keep, you know, juggling obstacles to fulfill their goals.
[00:05:16:06 - 00:05:38:06]
Diana
I've read quite a few books by this same author and the first book in this series, Frost, was one I got to satisfyingly loose myself in. So I'm really looking forward to this sequel. A couple of weeks ago you received my review on ACOTAR with an additional opportunity to explore the myths and fairy tales behind the book series.
[00:05:38:16 - 00:05:59:00]
Diana
If you haven't listened to my podcast episode yet, don't worry, you can always go to my website and check the Fae Lounge tag for the complete library of my "behind the scenes" content. So, I want to end this videoletter with a blog post of mine where it briefly discuss the meaning of a few symbols embedded in those myths I discussed.
[00:05:59:08 - 00:06:17:07]
Diana
Is there any significance to certain numbers and flowers? Find out by clicking on the link I'll be leaving below. And as usual, don't forget to download your February "On the Go Guide". Finding what to read next and narrowing your choices have never been easier. See you next month!
Thanks for stopping by!
---
❤️ Enjoyed This Videoletter?
💬
Hit reply to send me feedback or just say hello.
---
Fae Bard will return on Friday March 3 🗓
---