The Prison Healer (Book Series)
I rarely give a book five stars. What else do you need to know? Just grab your Kindle or go to your nearest book store and buy this series. It's one of the best book series I've read this year. Lynette Noni is simply a master mind. Full review below.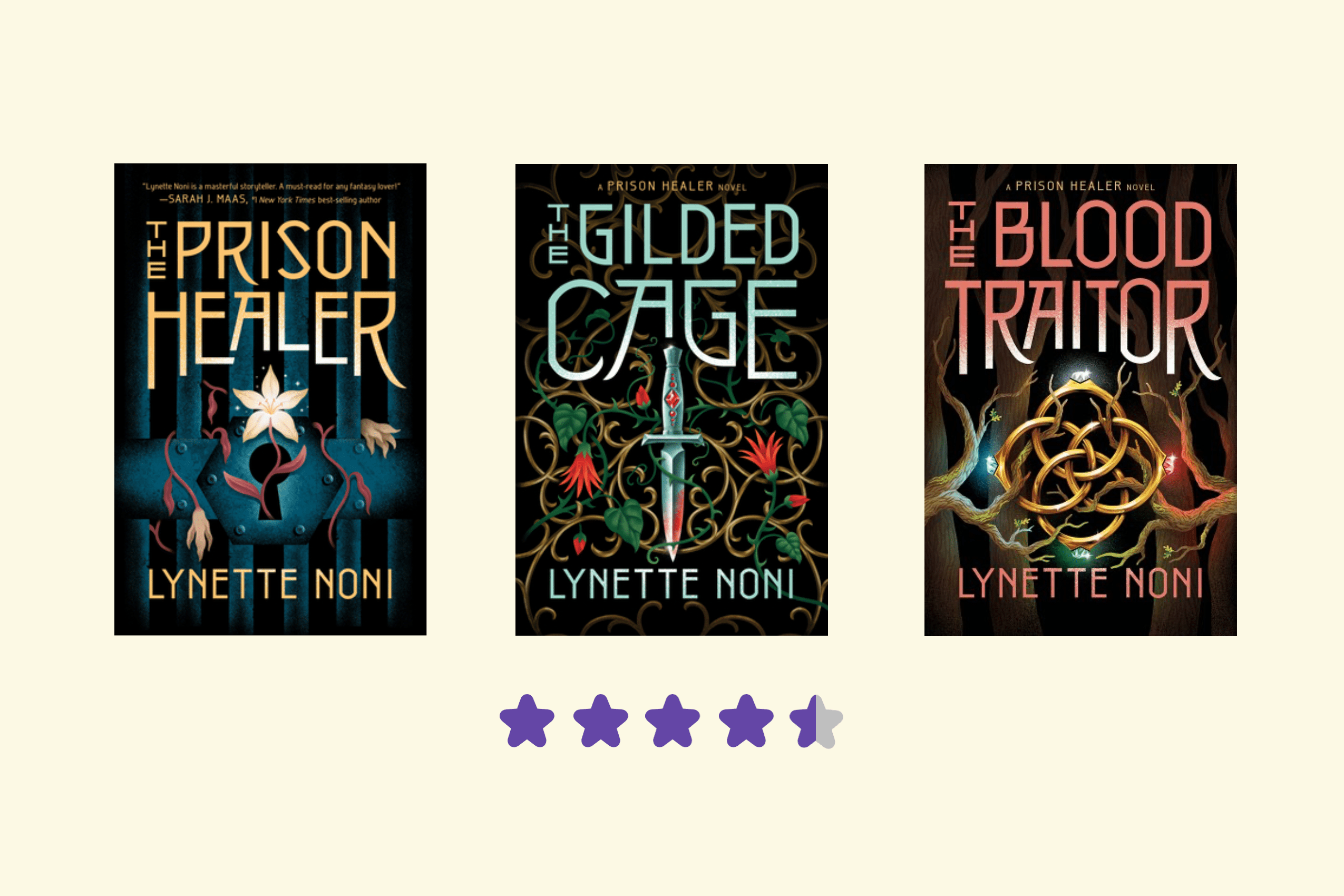 Review
Book series: The Prison Healer
The Prison Healer - ⭐️⭐️⭐️⭐️⭐️
The Gilded Cage - ⭐️⭐️⭐️⭐️.5
The Blood Traitor - ⭐️⭐️⭐️⭐️
Author: Lynette Noni
How can I begin to describe this series? Sarah J. Maas wrote, "Lynette Noni is a masterful storyteller…." Let me tell you, she was absolutely right. Noni has created a book series to compete with the most loved and sought ones in Fantasy-Romance—series like ACOTAR, The Folk of the Air, Blood and Ash and the like.
Overview
All the puzzle pieces fit in the most perfect way
I rarely rate a book with five stars. The cleverness of Noni's plot, how she weaved the story, how she went from one direction and turned to the next leaving us dumbfounded; I mean, the storyline is so complex and so well crafted. All the puzzle pieces fit in the most perfect way. Apart from the last book, where you could sense where the story was going, Noni gives us very unexpected and magnificent twists. And even if I could predict the result in "The Blood Traitor," I don't see it as a negative aspect. This actually allowed me to relax a bit and enjoy the reading knowing that everything was going to turn all right. I'm a person that suffers with the stories. I fight with the characters, get angry when they do stupid things. My heart beat accelerates when things are too tensed. And when I finish reading a book, I'm left heartbroken or with a lot of anxiety. In this case, I was able to control my emotions and trust the author. This said, don't think that because you can predict some of the action, book 3 is boring, not at all.
Another thing I liked about this series and Noni in particular, is how she wasn't afraid to let her characters do what they had to do. She wasn't afraid to make hard choices when it came to beloved characters. Even if you might cry with the outcome, you know things have to happen that way in order to be believable. We all love happy endings, but great stories have a balance. There has to be compromises or else the story loses its depth and meaning.
Series Recap
Before continuing with the review, a little summary of what you'll find in "The Prison Healer" series. Meet Kiva Meridan. She was imprisoned together with her father, the latter accused of possible treason to the crown. She's been about a decade in Zalindov, one of those prisons no one survives in and no one gets out of—the like of Halálház in Stacey Marie Brown's "Savage Lands" book series. She becomes the prison healer, a 'comfortable' job, but also one that has given her enemies within the prison walls. One day, she receives a new and very ill prisoner, one that's rumored to be the Rebel Queen. Kiva's sent a message to keep her safe. However, the 'queen' has been sentenced to the Trial by Ordeal, a series of challenges, each related to an element—air, fire, water and earth— and very difficult to survive if you don't possess any magic. As a healer, Kiva can't let that woman die. She is supposed to help people, not sentence them to death. She volunteers in her place, and now she needs a plan to survive. If she does, she might get her freedom back. Along the journey, she meets some interesting people, people that will help her navigate her predicaments, but that will also contribute to new dilemmas. Being imprisoned for so long, she doesn't have many details about conflicts outside her walls. However, the rebel movement has been growing and creating some devastation in many villages. Meanwhile, the ruling class of Evalon is struggling to keep enemy forces at bay. You'll join the characters while they discover each others' secrets and deepest truths, while deciding in which side of the battle they want to be.
Let's dive into the parts I understand and respect, even if my heart was wanting something different.
The protagonist
Kiva is one of those characters you want it to be a well-trained warrior. At the same time, you understand not all female protagonists can be so. This fact doesn't mean she is weak, even when she sort of becomes a damsel in distress in certain scenarios. While she wasn't a Feyre or Zafira or Poppy, she shows great courage and commits to her resolutions. Therefore, even when I love warrior and self-sufficient female characters, I can't really complain about Kiva.
The romance
I enjoy passion, and I missed it a little bit in this book series. I get it though. Lynette Noni is a YA writer. Apart from that, I know this wasn't that kind of book. I believe Noni wanted us to focus in our protagonists adventures. That said, I actually respect the author for not wanting to distract us with romantic scenes. You see, sometimes it happens that characters interrupt important conversations or moments in the story with kisses and sex, and this might rest seriousness to the plot.
The ending
I'm not criticizing here. It's just that when you love a story, sometimes you wish not to rely solely on your imagination. You want the author to tell you more. Therefore, I missed an epilogue with a view into our characters' future. I mean I wanted more than just the promise. I wanted to see that promise come to life. Again, the ending was good. Moreover, the last phrase, I won't say it here as not to give spoilers, but it was majestic.
Dear readers, I will just end by saying Lynette Noni is a master mind. Happy reading!
---
❤️ Enjoy this review?
Check out my Friends of Fae Reviews subscription Plan. It might be a great fit for you.
---
The Prison Healer (Book Series)
by Lynette Noni
You can get it at your favorite place. However, you can buy it via Bookshop.org to support local bookstores.
Disclosure: I am an affiliate of Bookshop.org and I will earn a commission if you click through and make a purchase.
Buy it here
---